Kefamenanu, Vox NTT- Until now, Haumeni Ana Village, Bikomi Nilulat Subdistrict, TTU Regency appeared to be "hunted down" by photo fans from Indonesia and the Republica Democratica de Timor Leste (RDTL).
How not to be "hunted", in Haumeni Ana Village there is a portrait location with a beautiful mountain background.
Green trees that grow nicely in the mountains, of course it adds a special sensation for visitors to take pictures and selfies.
The location, located at a height with the background of the mountains. The air is so cool as if it always offers comfort for visitors. In there, you must be at home.
This portrait location is located right in front of the Indonesian Army Post Haumeni Ana.
Besides being visited by residents from Kupang city to Atambua, Belu Regency, also a favorite location for photos taken by residents of the Oekusi District, RDTL State.
From the Kefamenanu town, the capital city of TTU Regency to the photo location in Haumeni Ana, it can be reached for approximately 40 minutes using, both four-wheeled and two-wheeled vehicles.
To reach this location, the photo enthusiasts must go through a rather challenging terrain. There are several road segments that are still in a damaged condition.
Even so, fatigue will pay off when reaching the location of Haumeni Ana's portrait.
In the portrait location that was built by members of the RI-RDTL Border Security Task Force West Sector 741 /GN Mechanized Infantry was designed several writings.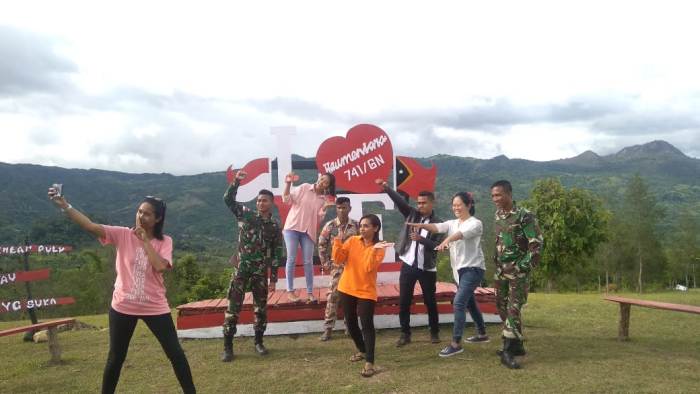 These include writing love with a picture of Indonesian red and white flags and bright red, black, yellow, and star flags belonging to the RDTL State
There is also a heart shaped board in which is written Haumeni Ana 741 / GN.
On the other board is written "mampir pos bentar, mana tahu ada nona yang suka" (stop by the post a minute, maybe there is a lady who likes) and "pulang malu, nggak pulang rindu" (Go home embarrassed, longing if don't go home "
When VoxNtt.com visited the location of Haumeni Ana's portrait, Tuesday March 5, 2019, there were five women and one man while taking pictures.
Seen, the six people also invited Haumeni Ana post captain Letda Inf. Arafik to pose together.
Frengki, one of the residents of Kefamenanu town, who at the same time while taking pictures said, the location has a very beautiful background.
The beauty is more complete with the additional creativity made by members of the Indonesian army.
"This is a very good place, I was here for the first time, thank you for Indonesian Army members who have made good photo locations," he said.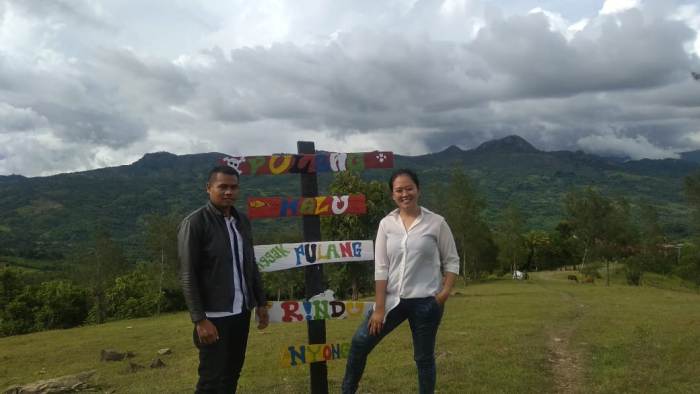 Haumeni Ana post captain, Letda Inf. Arafik when interviewed VoxNtt.com confessed, the initial idea was to make the location as a place where photos appeared from one of its members.
After coordinating with the captain of RI-RDTL Border Security Task Force West Sector 741 /GN Mechanized Infantry, Mayor Inf. Hendra Saputra and the RDTL Police- Polícia Nacional de Timor-Leste (PNTL), Arafik continued, he worked directly with members to make the location an interesting photo spot.
"We have been communicating with RDTL police from the start if the location of the photos we made is not only for Indonesians but also for RDTL people, so there we also made pictures of the Indonesian flag and the RDTL flag next to it," he said.
Letda Arafik explained, the initial making of this portrait location was only for the benefit of residents around the post.
The aim is to bring the Indonesian Army and local residents closer together.
But on the way, he added, the location of these portraits is increasingly being visited.
They included from the Kupang city, Kefamenanu and Atambua, as well as residents of the Oekusi District, RDTL state.
"People from Oekusi, especially Pasab, are usually crowded with photos here on Saturday, the market day, if the other day is mostly from Kefamenanu and even Kupang and Atambua," he explained.
Letda Arafik explained, to further beautify this photo location, he had coordinated with the captain of RI-RDTL Border Security Task Force West Sector 741 /GN Mechanized Infantry, Mayor Inf. Hendra Saputra.
As instructed by Mayor Hendra, he said, he would make some more heart-shaped decorations designed from rattan or iron. Inside there is a swing.
"We only make this all for the sake of the community, we will continue to try to make this place more beautiful until our term of service here ends," he said.
Author: Eman Tabean
Editor: Ardy Abba