Ruteng, Vox NTT- Anas, as soon as the familiar villagers called her. Her face looked gloomy and sad when visited by VoxNtt.com, Monday 3 June 2019 night.
The owner of Anastasia Undik's full name talked limply when she talked about her truly unfortunate life.
Anas is a widow from Lompong, Golo Lembur Village, Lamba Leda Sub-district, Manggarai Timur Regency, NTT Province.
It didn't feel the tears of the 39-year-old woman slowly coming down, when she started telling about her life which was getting bitter.
Since she was married to hers deceased husband Stefanus Adol, she was forced to survive amidst the onslaught of poverty.
Living in poverty and inadequacy is still close to accompanying her living space, as if is not willing to go.
Not only about the lack of economy, the house for Anas and her five children settled was really sad. The size is only approximately 4 × 5 meters.
The walls and roof are made of bamboo. Ground floor. Hers family seemed to be jostling while sleeping at night.
Their beds are also made by Anas from bamboo in the form of tents. There are no special rooms for families and guests, as the home model of most people.
There is no mattress in the tent. Their bedding is only a mat that is sewn from a cement sack.
There is no bulkhead in the all-designed house of bamboo. The only partition is the kitchen, where Anas cooks for hers children. It was not walled, like a hut in the middle of a rice field.
Behind her house, there is a fairly steep ravine. There are various trees that grow with apits on the cliff.
Work Hard
Since her life partner Stefanus Adol died in 2010, Anas's life began to be miserable and full of suffering.
The direction and sustainability of the family's life were entirely on Anas's shoulder, without hers beloved husband.
Anas is willing to live it for the sake of his five children as a result of her marriage with Stephen Adol.
The woman who was born in Lompong, January 6, 1980, kept trying to get up and work hard not to wallow in wealth, but only to support her children.
There is no dictionary tired in her life. She was forced to penetrate all the duties of the husband as the main backbone of the family, up to the task of a housewife.
Anas worked as a temporary worker in the neighbour gardens and rice fields in Lompong village.
Usually, she claimed to be paid 30 thousand – 35 thousand rupiah per day. Even so, not every day she gets daily wages. Money can be obtained by Anas, if there are people who need her energy.
"Sir, daily money to buy rice, to keep my children," she said.
The woman who only graduated from the Elementary School admitted that not only in the form of money as a wage she worked in the neighbour fields and gardens.
Sometimes, she said, there were people who gave her salary in the form of rice. There is also no standard measure of how many sacks of rice in one working day, depending on the pity of the owner of the garden or rice field.
"If someone is pity, sir, they can give one sack of 50 kilograms of rice," Anas said.
Although there are three fields of candlenut inheritance from the husband, but Anas admitted that his crops were not strong enough to support family life. The yield of candlenut is only a maximum of 30 kilograms.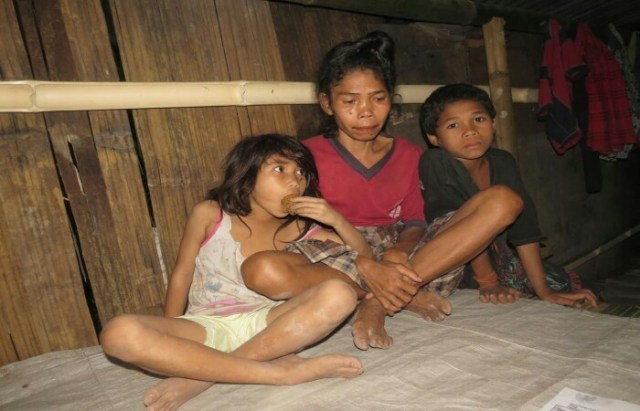 Dropout Children
No parents want their children to grow up in school dropouts. This principle is still embedded in Anas's heart.
However, economic conditions and poverty make her children have to accept the harsh reality.
Of Anas' five children, the other three had dropped out of Elementary School because the economy was unable. Meanwhile, the other two are still in Elementary School.
Anas claimed that there was indeed assistance from the Hope for Families Program for her. It was varied nominations, ranging from 400 thousand to 1 million rupiah.
The Anas family also received assistance from the Indonesia Smart Program. The last receipt, said Anas, was 900 thousand rupiah.
Husband Suicides
Anas's tears fell again, but her tears did not break when she began to tell about the death of her beloved husband.
Conversation with VoxNtt.com then briefly paused. Her head bowed with a sad face again. Tears continued to fall from his two eyes.
She looked silent, then wiped away his tears with the sarong she was wearing that night.
Not long ago, Anas began to tell about the death of hers beloved husband in a tragic way which was hanging himself.
She recounted, her husband Stefanus Adol went forever in 2010 ago.
Before dying by hanging himself, two years before Stefanus had migrated to Malaysia with the status of illegal Indonesian Workers.
Anas admitted, at first she had forbidden Stefanus to go abroad.
However, at that time her husband's determination seemed to be unanimous to leave to earn fortune in the neighbour country.
As long as he was in Malaysia, Stefanus had no information or message for his family. Anas continued to wait expectantly that her husband could return home with blessings, especially for the improvement of the family's economy.
Two years later, Stefanus returned home. However, the reality is far from Anas's expectations.
Because, Stefanus returned home with 'empty hands', not taking the money.
In fact, he came home leaving only clothes on his body. While the clothes that were taken from his village before went the country were gone and were no longer visible.
However, Anas claimed to still accept her husband with a big heart. She was not angry because he did not bring money.
Even her feelings are satisfied and happy, because of his longing for the husband to come home already realized.
After a few months later, Anas actually saw a strange signal from her husband. Anas was always angry with Stefanus, if there was a shortage in the household ark.
One night while sleeping, the story of Anas, her husband woke up. Late at night, Anas saw her husband get up and take a nylon rope.
Anas peered from behind the gap in the mosquito net, the husband tried to tie the nylon rope around his neck. Anas got up and immediately intercepted it.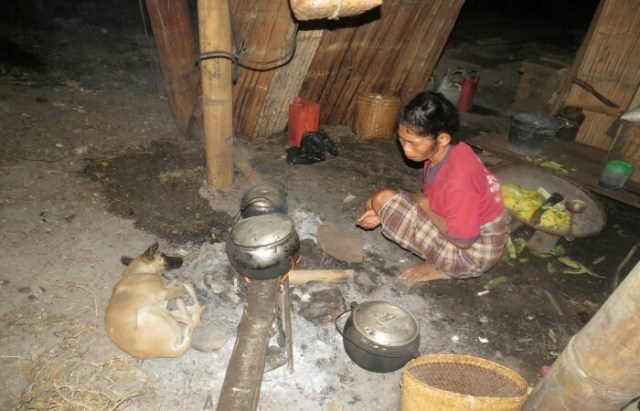 Apparently Stefanus suicide had begun that night, but his wife was thwarted.
Anas began to be suspicious of her husband's suicidal attitude and actions. She was also afraid of losing him.
Anas then cut the nylon rope with a machete, into some of the smallest parts. The effort was made so that Stefanus would not use the nylon rope to hang himself.
After a few days later, continued Anas, Stefanus was invited by his sister from Golo Popa, Compang Necak Village, Lamba Leda Sub-district to attend a school party (fundraiser).
At that time Stefanus and his family who lived in the garden agreed to attend to the invitation.
The next day, Anas gave Stefanus 100,000 rupiah to join the party. Stefanus went to join the party in the evening.
That night, Anas's mind was indeed uneasy. Her feeling was bad, when the husband said goodbye to go party.
Because she was not calm in the garden, Anas decided to return to hers village the next day.
Arriving at the village, Anas met the eldest son of Stefanus's first wife who had just returned from the party.
Stefanus's eldest son who lives in another house then asks why his father did not join the party.
Anas immediately responded that she had left 100,000 rupiah to Stefanus to join the party. Stefanus also said goodbye to go to the party.
At that time, Anas's mind was still chaotic and uneasy. She then returned to the hut with his children.
Arriving at the lodge, where they lived, Anas saw her husband's writing on the cottage wall.
The sentence in the form of a message of instructions is written from charcoal.
"If you want to find me, look at Golo Kembo," said Stefanus's writing, as Anas said.
Golo Kembo itself is the name of the place that is their other garden. Anas then called other residents together to look for Stefanus in the Golo Kembo garden.
Arriving at Golo Kembo, Anas and other residents found Stefanus had died hanging himself in a tree.
Anas cried hysterically, as if she was not willing to let her husband not leave that soon. Moreover, he went forever by hanging himself.
Stefanus's body was later to be buried by residents of Lompong Village.
Need Help
Anas claimed, in her life dictionary did not think to rehabilitate their home. Although it is indeed a lot of holes in the rugged bamboo house that has been broken.
"How, want to think for home, sir, just feeding children is difficult," said Anas, as if giving up on the reality of her life.
However, Anas claimed she could not stand living in the already decrepit hut. The roof of the house from bamboo that has been decayed and holey is no longer able to withstand rainwater.
In the rainy season the soil in their homes is often muddy due to water leaking from the roof.
The situation was what made Anas beg for the help of various parties to rehabilitate their homes to be comfortably occupied.
"Ask people for mercy, maybe they can help build this house," Anas asked hopefully.
When speaking with VoxNtt.com before, Golo Lembur Village Chief Robertus Sumardi Imbi said he was ready to help provide assistance to rehabilitate Anas's house.
But assistance from the Village Funds, he said, was only 10 million rupiah and tax deductible. That means it's not enough to build one house as a whole.
Arsy Moves the Heart
The suffering that kept gripping Anas's life and family turned out to have moved Chief Police Brigadier Arsy Lentar's heart to raise aid.
Police who work in Lamba Leda Sub-district claimed to have come to Anas's troubled house.
He also intends to raise funds to rehabilitate Anas's home and family. He begged anyone who was pity for Anas's suffering, so it could help rehabilitate her house.
"The principle of humanity is my foundation, so I was moved to raise funds," Arsy said when contacted by VoxNtt.com, Wednesday 5 May 2019.
He said that when asked about the reason he was willing to take the time to raise funds to build Anas's house and family.
The effort to raise funds by the Police Arsy is indeed not the first time.
Previously, he had carried out a similar humanitarian movement to help rehabilitate the house of Paulina Lawus, a 70-year-old widow from Deru, Compang Deru Village, Lamba Leda Sub-district.
As a result, the house owned by grandmother Paulina has been built permanently thanks to assistance from various parties.
One form of fundraising conducted by Police Arsy is through social media Facebook.
Through his Facebook account, he begged for help to netizens.
Arsy often uploads photos and videos of Paulina's grandmother and the condition of her poor house, by writing a caption "please help".
Arsy's posts also grabbed the attention of netizens. Many netizens are moved and then help.
This time, he again requested the help of all parties through his Facebook account to rehabilitate Anas's house.
Author: Ardy Abba